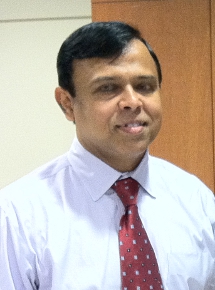 Professor and Chair, Information Systems
Aryya Gangopadhyay is a professor and the chair of UMBC's Information Systems Department. He has been a faculty member at UMBC since 1997. His recent courses include Computational Methods in Information Systems Research, Introduction to Data Mining, and Database Management Systems.
Dr. Gangopadhyay's research interests are in the areas of databases and data mining. Currently, he is focused on privacy preserving data mining, spatio-temporal data mining, and data mining for health informatics. His research has been funded by grants from NSF, NIST, US Department of Education, Maryland Department of Transportation, and other agencies.  Dr. Gangopadhyay has published five books and nearly 100 research articles. He holds a Ph.D. in Computer Information Systems from Rutgers University.
Research Projects
A privacy-preserving framework for distance-based mining
This project ($449,654), just completed in August 2012, was funded by NSF to Dr. Zhiyuan Chen and Dr. Aryya Gangopadhyay. The results of this project provide privacy preserving data mining techniques with both worst-case privacy guarantees and high accuracy of mining results. These techniques have potential applications in many areas, especially in critical areas such as law enforcement where finger prints, foot prints, and facial images are matched using distance-based algorithms. This research is also linked to educational goals through dissemination of the results to K-12 educational and outreach programs, undergraduate and graduate courses, and interdisciplinary conferences and workshops.
Graduate Assistance in Areas of National Needs
Dr. Gangopadhyay has received a grant for $399,798 to provide fellowships to PhD students in Information Systems. 4-5 students will be supported through this grant from 2012-2015.

Contact
Office: ITE 404J
Phone: 410-455-2620
E-mail: gangopad@umbc.edu